Do you want to learn how to get free traffic from Reddit?
Reddit is such a huge source of traffic that many bloggers are not tapping into. That's because they're intimidated by the platform.
I've seen so many bloggers flock to sites like Pinterest and Facebook while ignoring Reddit because they just don't understand it.
On top of that, the Reddit tribe can be ruthless especially if you're only seen to promote your content without providing any value to the community.
That's why it's important to understand how to use the platform before attempting to use it. In this post, I'm going to lay it all out for you.
We're going to look at how to get free traffic from reddit and in the process, grow your following to epic proportions.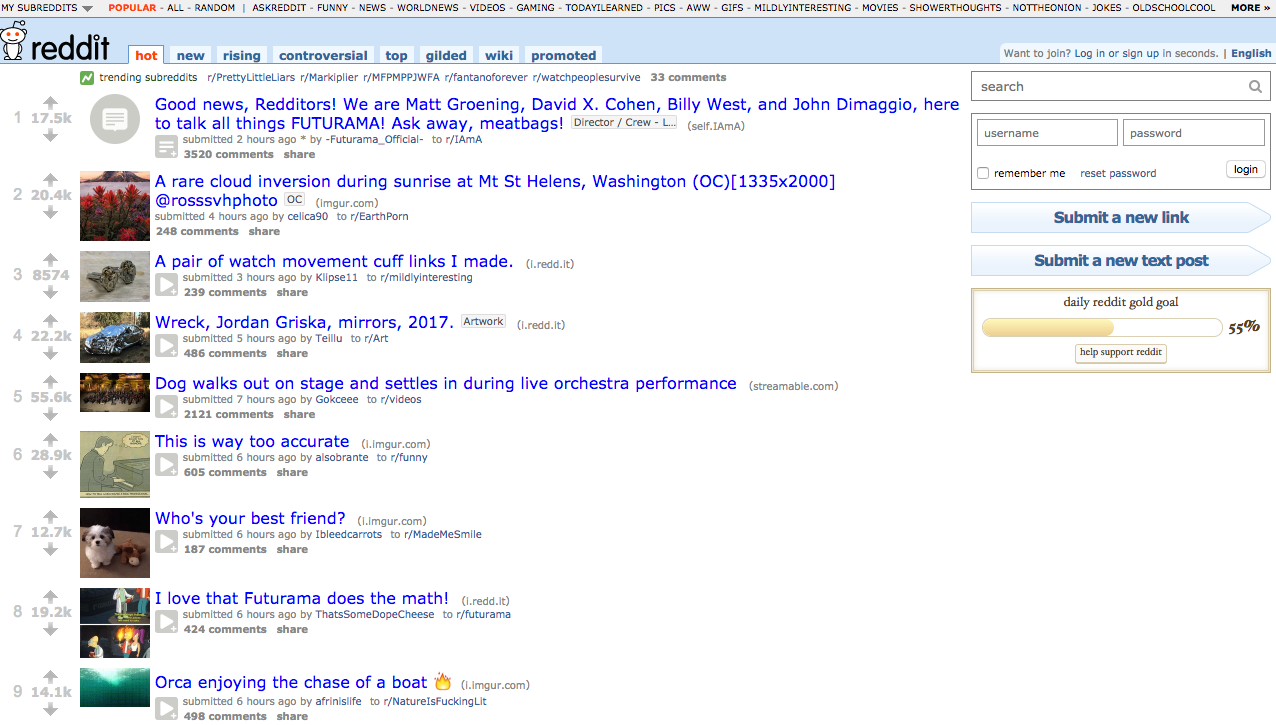 So How Does Reddit Work?
On Reddit, you can submit links on all kinds of topics and users can either upvote or downvote your submission. This concept of upvoting and downvoting is called karma.
Reddit receives billions of page views each month and that's why it's a great place to submit your link because it means hundreds or even millions of people will get to see your link and this automatically means more traffic to your site.
Reddit is divided into different categories called 'subreddits'.  So this means that you don't just post a link anywhere.
If your niche is technology, you should look for the sub-category of /r/Technology. If your niche is politics, put your link in the sub-category of /r/Politics.  It's as simple as that!
How to get to the front page of Reddit…
The truth is that you don't need to appear on the front page of Reddit to get an avalanche of traffic. However, there are a few steps you need to follow in order to start getting this traffic.
The first step is to post in the correct subreddit. You cannot post about technology in a subreddit about humor and memes and expect other users to upvote you!
Watch It: This video will better explain to you the culture of reddit
How To Get Free Traffic From Reddit…
1. Do Your Research
To know the type of content that is acceptable on Reddit, you have to browse the platform.
Spend some time going through the various submissions to get an idea of the type of content that is usually upvoted. That's because you want to model your content in the same way.
By doing this, you're understanding the Reddit culture. This means you're learning what people love and hate on the platform. In addition to that, you need to check out the comments under each submission.
2. Your Title is Important
The title is the first thing that will draw people in. So, if you have a boring title, forget about anyone clicking the link to read it. This means you won't be getting any upvotes or downvotes for that matter!
To get people to vote up your submissions, create an enticing title that ignites curiosity in the reader.
The best way to get a good idea for a title is by looking at popular submissions. Find out what exactly it was about the title that drew people in.
For example, you could create a post surrounding a controversial issue that a lot of people will want to chip in.
3. Don't Spam
This is the golden rule of Reddit.
Everyone knows that Reddit hates spammers. They don't like people whose only goal is to promote their content.
That's why you have to be subtle with what you're doing.
For example, don't always post links to your own content. Instead, post other people's links that contribute value to the community.
If you want to know how to get free traffic from reddit, this is it!
In short, you don't need to be so obvious that you want people to visit your site. Believe me, if the reddit users notice your intentions, all your posts will be downvoted!
4. Participate
You have to be constantly active on the platform if you want to establish some credibility on reddit.
This does not only mean posting links but also commenting and reposting other people's content. In fact, if you're new to a subreddit, you shouldn't post your link immediately.
Instead, participate fully in the different conversations going on in the subreddit and let the other users know who you are so they can fully welcome you into their community.
Did You Know That Reddit is Also Great For Backlinks?
Traffic is just one of the many perks of using reddit.
A good submission on Reddit will also earn you some quality backlinks which you can use to boost your rankings on Google.
I've heard so many people complain about how hard it is to get quality backlinks for SEO but this couldn't be further from the truth.
For one all you need is a backlink from a high authority site. Reddit currently has an Alexa traffic rank of #54 and receives billions of page views each month this means that it qualifies as a great site to receive a backlink from.
So, when you post a link on reddit, you automatically get a backlink. However, when other people comment on your submission and repost it, you get additional backlinks.
Bottom Line
Are you ready to start using reddit to boost your traffic? I know that at first, reddit will seem confusing but to be honest, it really isn't.
All you need to do is understand the platform and you're halfway there.
Also, you need to understand that redditors can be brutal. If they don't like your post, they will definitely let you know.
However, if they like your post, you can easily go viral and drive tons of traffic to your site.
The secret here is to do research to learn what works on the platform before posting any content.